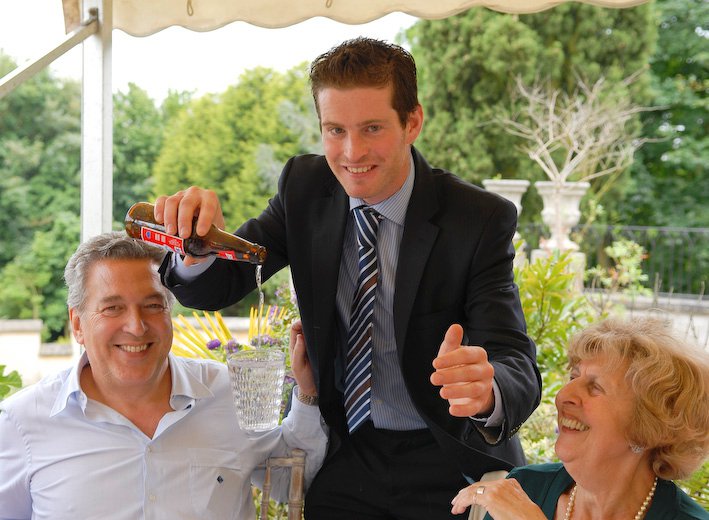 ---
---
Wedding Magician
Book Paul Lytton as your wedding magician today
In 1997 Paul spoke to a Miss Scott – Soon to be Mrs Walton.
"I know what you're thinking – you don't want a magician at your wedding – doing a show and pulling rabbits from top hats, or bugging people with boring card tricks". – Paul
"Not really" – Miss Scott.
"I agree with you. I wont do it like that!" – Paul
100's, actually over 1000 weddings later, Paul knows exactly how and when to perform magic at your wedding. In fact, you wont find any one better. Chances are, he's even familiar with your wedding venue and the key staff.
He's performed at quite a few high profile weddings too –
The Marriage of Ross Kemp (Eastenders etc) to Rebecca Wade (News of the World editor). Kensington Roof Top Gardens London
Shay and Jane Given (NUFC Goalkeeper) Slaley Hall nr Hexham
Steven and Lindsey Harper (NUFC Goalkeeper) Scotland
Paul Collingwood (England Cricket Captain) Slaley Hall nr Hexham
Matt Baker (Blue Peter) Headlam Hall, Darlington
Tom May (England Rugby) to Kate Walker, Beamish
Michael Grey (SAFC), Seaham Hall
Jonny and Joanne Regan, Big Brother Wedding at Shotton Hall
The wedding of Graeme Onions (England Cricket) Seaham Hall
So how does it work?
Pauls Magic is performed on a more personal level, mix and mingling with your guests. Unlike other magicians his magic is fast, witty, visual and exciting. It works well as most people aren't expecting it. It's guaranteed to impress because the magic not only happens under their noses, but within their own hands! You should see the looks on their faces when he returns the watches he's pick pocketed, or burns a hole in the best man's jacket!
When will Paul fit in with the Wedding Day?
Paul will keep your guests entertained while your busy with the photographs.
Photos can take over an hour. Having Paul there means you don't have to worry about your guests.
Because he's not performing a stage show, your guests can still drink and chat, while Paul mix n mingles with them.
Because its interactive – it's a good talking point and an ice breaker between friends and families that have never met.
And its guaranteed to put a few smiles on their faces ready for the camera – not to mention putting them in a great mood for a great day.
Or, During the Meal
A little bit of magic at each table works really well. Its some thing they aren't expecting and probably haven't seen before. Paul doesn't approach a table while they are eating their food – but theres still plenty of time in between courses and during coffees. This works really well and means that any gaps in service aren't noticed. He simply takes a step back for any introductions and speeches. If you like he can even do a little bit of magic in front of everybody after the meal.
Or, the Lull Period
If you've ever been a guest at a wedding you may have experienced a lull period after the meal. The formalities are over and there is sometimes up to a two hour gap before the evening celebrations begin. Often the room has to be changed around. The guests are left with nothing to do but sit around. Paul can fill this gap by keeping them entertained.
Or, the evening celebrations.
Close up magic works great during the evening celebrations.
At the bar or at the guest's tables while they are waiting for the buffet.
Its very visual so works well even if you have loud music.
Not everyone gets up dancing so its great entertainment for them.
Sometimes its best to have Paul in the evening. That way everybody gets to see him – the evening guests don't just get to hear how good he was from the day guests.
What the brides have to say…
"Absolutely perfect. We wanted entertainment that was a little different and original – and you just blew everyone away! They were so impressed they're still talking about you. Thank you for making our day even more memorable" – Annie Moore 2001
"Very Special. It broke the ice for my wedding guests, many whom had never met before and gave them something to talk about. All my guests commented on how wonderful they thought it was. Thank you!" – Jane Given
"I am writing to thank you for your fantastic work at our wedding at Hotel Bannatyne on 25th August 2007. You left our guests speechless with your magic. Every single person who attended was amazed at the tricks you performed and you quickly became the talking point of the whole evening! When we first met you at a wedding fair at Redworth Hall we were immediately taken by skill and friendly nature. We knew there and then that we would have to book you for our wedding and on the night you exceeded our expectations. We will be recommending you to everyone. Kind Regards." – Mr and Mrs C Hillen
"I cant praise this entertainment highly enough. It added a real zest to the day – it was slick, skilled, amusing, awe inspiring – the lot! Paul was sensitive to the day – quietly entertaining some children, when we needed, and returning to the adults which were then left with their mouths left wide open. The room was full of laughter and applause, the shrieks of "how did he do that" – but only when paul though it was appropriate! Value for money. Many Thanks." – Ann Barber 2009
"Fabulous. Fantastic. They loved it – Some still don't believe what they saw. One gentleman is still in shock! Paul you were excellent and we cant wait to hire you again. Any other parties and you are first on the list!" – Julia Emmerson
"Very Well received. Enjoyed by everyone. Guests have been talking about "The Magician" ever since! One guest said they's seen a magician before at a wedding, but he was nothing compared to you. They also said how professional and well mannered you were. Hope you enjoyed yourself and we hope to see you again in the future." – Karen and Malcolm Stratton